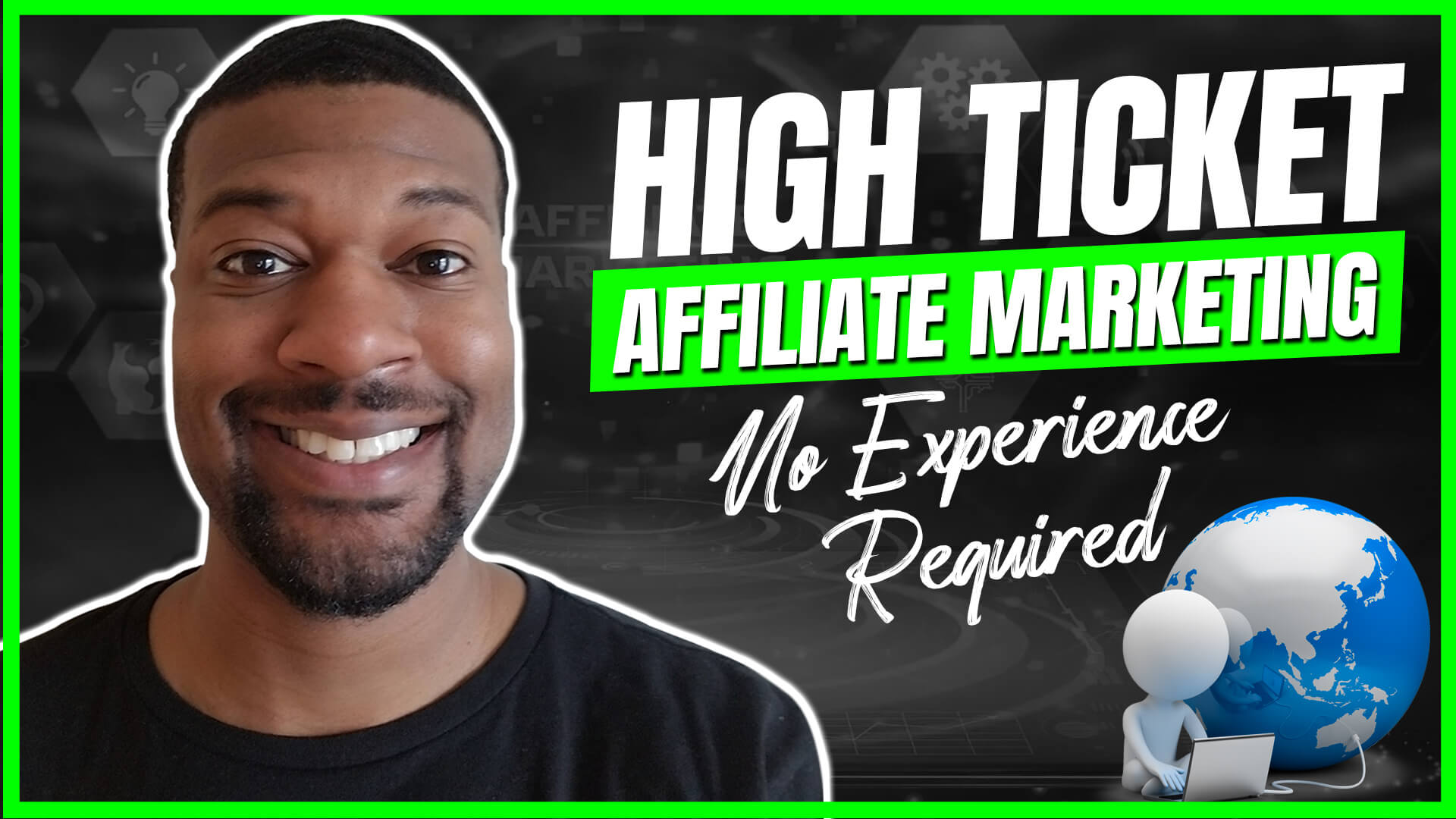 In this article, we will explore high ticket affiliate marketing programs for beginners (no experience required). I will walk you through a way to make between $100 and $500 per day. Anyone can do this in their sleep with the appropriate systems set in place.
Before we get into it, make sure to check The 7 Steps to Becoming a Super Affiliate. If you follow the steps in the eBook and follow the guidance that comes after it, you can join thousands of other affiliates that have literally walked out of their 9-to-5 jobs and made thousands of dollars each month from affiliate marketing.
If this is the first time you across my articles, make sure to check my YouTube channel. You will find plenty of guides, resources, and tips on how to make it into the affiliate marketing world. Don't hesitate to reach out to me here or on YouTube and if you appreciate my content, please share it with your family and friends.
What are the Benefits of Affiliate Marketing?
If you have decided to get into affiliate marketing then that's a great first step. Affiliate marketing is one of the most profitable online activities. You don't need to have your own products or services to start and the start-up costs are fairly low.
If you learn affiliate marketing properly from the start, you can make as much income as you want. This is not a false promise because as soon as you set your system, it's then up to you how much effort you put to scale it up.
What is Affiliate Marketing and the Difference Between Low-ticket and High-ticket Programs?
If you always hear about affiliate marketing but never heard a proper definition of it then here it goes. Affiliate marketing is the process of promoting somebody else's products or services. It doesn't matter what the product or services it, it could be anything where they offer an affiliate program.
For example, let's say I had my friends over and one of them liked my TV. They will ask me "I love this TV Lenny, where did you get it from?" to that I will answer, "I got it from Walmart and I believe it's still available, you can go get one". Then, my friend goes to Walmart and gets the TV. That's a form of affiliate marketing, however, I didn't get a commission for that referral.
In affiliate marketing, you find a product or service that you want to promote, you sign up for its respective affiliate program. Then, you get a link that's exclusive to you so that when you share it and people buy the product, the program knows the purchase happened thanks to your recommendation and gives you a commission.
Many new affiliates start by signing up for programs that promote products that don't cost a lot of money. Then, the affiliate commissions will be as small as the product prices. For example, with the TV example; if the TV costs $400 and the affiliate program pays $10 per sale then that's a low-ticket program. This kind of program takes a lot of sales to generate a decent income. Let's say you're a new affiliate marketer and you want to generate $1000 per month through the TV product from Walmart. It will take you 100 sales to generate your target income.
On the other hand, let's say we found a high-ticket affiliate marketing program with the product being a $2000-vacation package and a $100 commission per sale. This will only take 10 sales to reach the $1000 income goal. In this comparison, to make $100, you will need to make 10 times of TV sales than you would of the vacation package sales. This is the difference between low-ticket and high-ticket affiliate marketing and it makes more sense to go for the high-ticket option.
Benefits of High-Ticket Affiliate Marketing
Now that we explored what affiliate marketing is and what kind of programs is the most profitable, you're probably asking yourself "How do I get started?"
How To Find A High Ticket Affiliate Program (Step 1)
As a first step, you need to find a good product to promote. I personally recommend sticking with the health, wealth, and love niches. These are niches that will always be around and have people seeking products in them. Then, in those niches, you need to decide what to promote and make sure that it's a high-ticket program.
These are a few websites that you can search for high-ticket affiliate marketing programs on;
Pro Tip - Choose a Hair on Fire Niche
I always recommend choosing very specific products that are in very specific niches that solve very specific problems that keep potential customers up at night. These are usually health-related but when you keep this idea at the back of your head when selecting the product to promote, it can help you make the right choice.
For example, let's say someone has excessive sweating regardless of the time of the year. It makes their body odor bad, it shows wetness on their clothes, and it makes them feel bad and less confident. Someone with this problem will pay literally anything for a solution. If your affiliate product provides that solution, then you will be in a winning position. This will still require a good landing page, some SEO, maybe paid ads.
The Landing Page (Step 2)
As a new affiliate, you may be tempted to find a product, get a link, and start getting people to make the purchase directly through the link. That may be true and you can make a few sales. However, in the long run, you will be losing simply because you're never sure that people will make the purchase right away. That traffic you lose will never give you second and third and fourth chances to remind people to buy the product.
If you send people to a landing page with an opt-in form to where you're giving something of value away for the visitor's email address. Now, you're doing it the right way. Then, you will be putting the stepping stone to a system that would make you money in your sleep and help you generate high-ticket commissions overnight essentially for the lifetime of the subscriber.  
On average, you should be making anywhere from $0.50 to $1 for every single email subscriber that you have on your email list. On this opt-in form that we're talking about, if you have 1000 subscribers, you should be making $1000 per month and the more subscribers you get, the more income you make every month.
Let's recapitulate, you made your research and you decided the niche to work on. Then, you set our landing page with an opt-in form to collect email subscriptions. Let's say your product stops sweating and that it costs $500.
You will be sending visitors to a landing page that contains information and details about the product and you're going to give away something of value. It could be a sample they can use to limit sweating and at the same time, you will still ask for their emails to send them a product that will stop the sweating completely.
Following that, you send them the free sample and you have their emails which will allow you to promote the main product with multiple emails.
Send the Gift you Promised on your Landing Page (Step 3)
Credibility is the most important element in this equation. If you lose credibility with potential customers then it will be impossible to recover. Many people promise a free sample and as soon as they get the email address subscribed, they don't sell what they promised. In that case, the emails collected will be worthless. Customers will not trust the product you're promoting if they don't trust you and if you promise them something for free and end up not sending it, they will not trust you anymore.
So, make sure to send the gift that you promised through the first email and dedicate the next series of emails (over the span of one week) to promote the main product/offer in a strategic way that provides value to the subscriber.
After you determine your target income and set your affiliate marketing system, all you will need then is traffic. You need to get people on your landing page and you can do this in 2 ways;
Do not limit your relationship with the subscriber to what they can buy from you. You need to give them tips and recommendations every now and then. You can give away eBooks, giveaways, discounts, and advice related not to the product you're selling but to the problem they're struggling with.
As always, I wish this article was helpful to you and I hope you find the information provided valuable enough to share it with your network. Don't hesitate to ask me questions and leave comments. Check out the eBook on 7-step System for Super Affiliates; it will show you how to set up the system step by step. I'm also going to send you a couple of other recommendations of a 3-day Breakthrough Challenge and how you can take everything I'm teaching you to the next level.