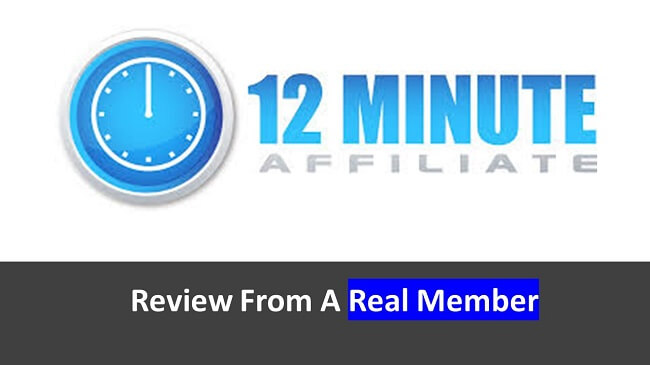 Hey everyone, Lenny here. So a couple weeks ago I was doing some searching online for new affiliate programs I could recommend to my list.
After doing some digging, I came across a program called the 12 Minute Affiliate by a marketer named Devon Brown.
Ironically, I had seen a Facebook Ad with Devon pop up on my Facebook news feed in the past, but to be honest I thought it was just some newbie running ads for an affiliate product, so I didn't pay it much attention.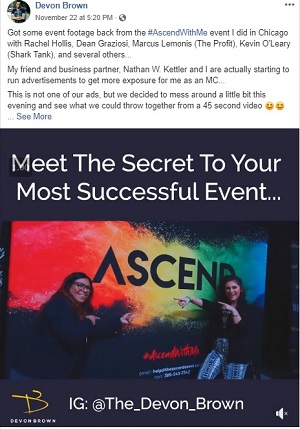 After doing some research, I found out Devon is actually a huge deal online. This alone was enough motivation for me to give the program a try.
No KIDDING! I Am An Actual Member Of 12 Minute Affiliate Program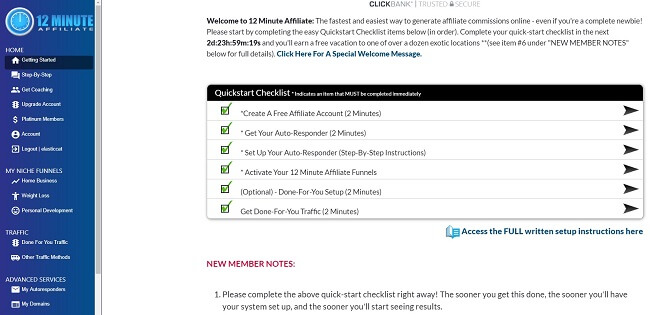 Very Important Note: If you like this review and you are thinking about signing up for the 12 Minute Affiliate, I would really appreciate if you sign up HERE through my link. If you do, I will earn a small commission and it will cost you nothing extra.
Just remember if you have already clicked on the sales page before coming to this review, be sure to close it out, clear your browser cache then purchase through my link.
So What Is The 12 Minute Affiliate System?
The 12 Minute Affiliate System is an affiliate marketing training program designed to help even the newest affiliate get up and running with a squeeze page and 80 day autoresponder follow-up series in twelve minutes or less (hence the name of the program).
Of course this is a really bold claim and I just had to test it out for myself. and guess what? It worked! I sent some test solo ad traffic to the Make Money Online (MMO) funnel and got to trial sign ups in less than 24 hours. These trial sign ups turn into $47/$97 a month customers if they stick with the program.
Check Out The Two Sales From One Simple Solo Ad On My Test Clickbank Account Below!
Bottom Line Up Front (BLUF) – This program is LEGIT. I was able to setup my entire funnel for three profitable niches in less than 12 minutes. This includes getting Aweber synced up with all my affiliate links. I simply put in an order for traffic from my favorite solo ads provider and got two trial sign ups in than 24 hours later.
I like this program and would definitely recommend it to new and experienced internet marketers (if nothing else to study the funnels, bridge pages and email marketing follow up sequences). If you have been looking for a solid way to promote products on clickbank, this is definitely for you.
The system is made up of 3 parts.
Squeeze Pages (In 3 Niches)
Done For You Autoresponder Series (In 3 Niches)
Done For You Traffic (If You Decide To Pay) (In 3 Niches) And A Free Traffic Section That Teaches You How To Leverage Free Traffic Sources
How Does The 12 Minute Affiliate System Work?
Getting started is fairly easy. Once you sign up you receive a welcome email that includes:
-A step by step checklist of what you need to do next
-A link to the members area
-A customer support phone number where you can get live assistance
-An invite to join the 12 Minute Affiliate Facebook Group For Members Only
When you login to the members area a check list appears and the goal is for you to click through each step until your funnel is setup. There are written instructions and video tutorials to help you get going.
There is even a Done For You setup option you can select to have Devon's staff setup the funnel for you. There is absolutely no room for failure unless you simply do not take action.
What Are The Membership Levels In The 12 Minute Affiliate Program?
12 Minute Affiliate has two main pricing levels with a couple options.
-Basic (Monthly) – Members can try the system for $4.95 for 7 days then it's $47 a month after (Access to ONE of the 3 Niches)
-Basic (Lifetime) – Members can skip the trial and pay a lifetime membership fee of $397 (Access to 1 of the 3 Niches)
-Gold (Monthly) – Members can try the system for $4.95 for 7 days then it's $97 a month after (Access to Three of The 3 Niches)
-Gold (Lifetime) – Members can skip the trial and pay a lifetime membership of $797 (Access to 3 out of the 3 Niches)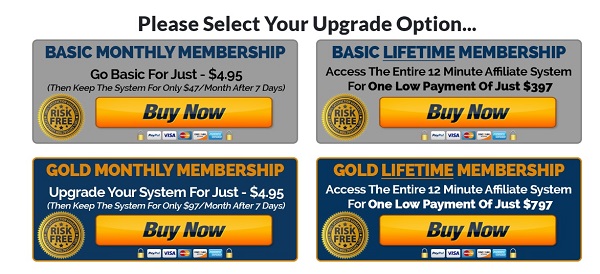 As a basic member you get to choose from 1 of the 3 niches packages.
-Home Based Business Aka Make Money Online
– Self Help
-Weight Loss
So lets say you decided to go with the make money online from home niche package. The system walks you through how activate your squeeze page (which will help you collect leads. There are 20 different beautifully designed pages to choose from.
Here is an example of how one of the squeeze pages in the MMO niche looks
Once you have selected your desired landing page, you simply import your done for you autoresponder series into your aweber account. You get over 80 days worth of professionally written autoresponder messages that automatically promotes the top selling make money online clickbank products while you sleep.
The best part is, your clickbank affiliate links get automatically attached to each and every email with one simple click of a button.
So you may be wondering.
How Do I Make Money With The 12 Minute Affiliate System?
The answer is actually not as complicated as it may seem. The program gives you the landing pages and the follow up series. All you need to do is drive traffic to the funnel.
The process works the same for the other two niches (weight loss and self help). Once you setup the funnels, all you need to do is drive targeted traffic.
How Do I Drive Traffic To The 12 Minute Affiliate Program Funnel?
I am glad you asked. Having a great funnel and follow up series is just part of the equation, but you can't actually make profits unless you get traffic to the funnel.
Traffic meaning people and not just any ole body. I am talking people that are looking to make money online, lose weight or need self help programs.
Now, most beginners take the "free route" and try to drive traffic via YouTube videos, Facebook Groups and other methods that usually involve social media platforms. There is absolutely nothing wrong with this, but it does take a while to build up a targeted audience.
If that is what you are into, there is a section in the members area dedciated to teaching you how to drive traffic with free traffic methods.
In addition, here is a helpful video I personally recorded on how to get free traffic to your make money online offers.
While these methods can be effective, it is a lot faster to get results using paid traffic methods, more specifically solo ads.
In the 12 minute affiliate program, Devon has a traffic buying section where you can buy clicks (solo ad email traffic) in any of the three niches provided anytime you want. Check out the image below to see how it works.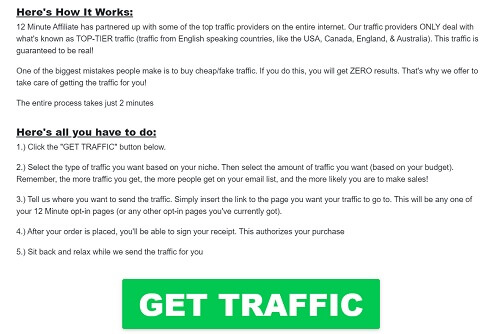 The benefit of sending traffic to squeeze page instead of directly to your affiliate link is…you can ultimately create a loyal customer for life. So not only will the buy the product you are promoting now, but also later down the road. That is why people always say the money is in the list.
What Is The Benefit Of The 12 Minute Affiliate System?
Think about it like this. If you were to go out and try to build this entire system in any niche by yourself, you would need the following
-Domain Name
-Hosting
-Copywriter to write emails for your autoresponder/landing page
-Email Autoresponder
-Professionally designed landing pages
-Market research specialist to help you research your niche and select top selling products to promote
-Facebook Support Group- Place where you can connect with Devon Brown (the program creator) and other marketers in the program.
We are talking thousands of dollars to design a system like this on your own and that is not mentioning the money you would need to spend in order to test your funnel to be sure it actually converts.
With the 12 minute affiliate, you get all that and more for a heck of a lot less. Here is a summary of what you get below.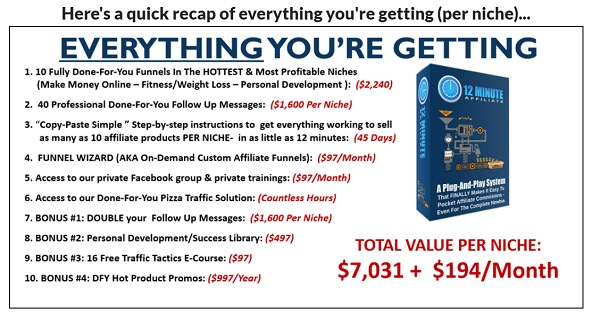 As you can see some of the things in the image above are different than what I mention in my review (because the image needs to be updated), but the information in my review is accurate based on my recent experience.
Are There Any 12 Minute Affiliate Upsells Or One Time Offers?
Yes, there are two OTOs that come with the program. The first is an ebook designed to help you accelerate your path to profits and the second is one on one coaching Devon and his team.
If you are looking for extra help with things such as using your autoresponder, finding even more products to promote and 3xing your profits, you may want to consider his coaching.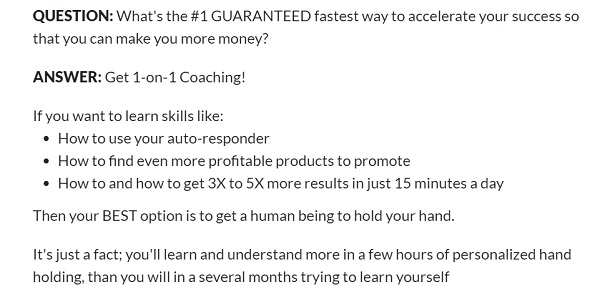 Where Can I Buy The 12 Minute Affiliate Program
If you enjoyed this 12 minute affiliate review and you are ready to purchase it, you can click the image below to start your trial!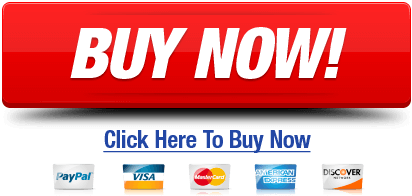 Thanks so much for stopping by to read by 12 minute affiliate review, please leave a comment below with any questions you may have.