Hi Everyone! Today I will be providing you with a review of a web based video ranking tool called VideoRankr. My review will include a live demonstration and explanation of the bonuses if you decide VideoRankr is a product that you would like to purchase.
What is VideoRankr?
VideoRankr is an online credits based (All In One) Video Ranking tool. The system requires very minimal setup and only takes a few minutes to start sending links/services to your videos. VideoRankr claims to be able to help you rank you videos on the first page of Google and YouTube very quickly.
Who are the Product Creators?
VideoRankr was initially launched a few months ago (May 2015) by Abdul Hannan (well known software creator with over 10 years of experience). The first time the product was launched it did not get a ton of buzz. In fact it only sold around 50 or so copies. The product worked, but it was expensive and a lot of people were turned off with the cost of the credits. Since May, well known video marketer Joshua Zamora and Han Fan teamed up with Abdul to make some improvements to the product and reduce the cost of the credits. There was also an increase in the number of services being offered and the cost of the credits decreased significantly.
Here is a summary of the services VideoRankr offers:
VideoRankr Main Features/Services
High PR Social Bookmarks (Choose 50,100, or 200)
Video Syndication (10+ Blogging Sites)
Directory Submission (300+ Sites)
High Retention Views (1000+)
Redirect Backlinks (350+ Sites)
Url Shortners Links (Top 30+ Sites)
Link Reports
Built In Pinger
Link Indexer (3rd Party Services Required)
The Video Submission Process
1. Select The Task (ie socialbookmarks, video syndication etc)
2. Input your YouTube video url
3. Enter up to 3 keywords
4. Enter a brief description (minimum 180 characters)
5. Select Task Speed (ie submit links instantly or drip feed)
Video Submission Form Screenshot Below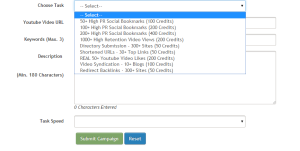 How Do The Credits Work?
As I mentioned in the beginning of the review. VideoRankr is a credit based system, meaning each of the services you apply to your video require a certain number of credits. When you purchase VideoRankr it comes preloaded with a predefined number of credits based on which level of access you purchase. You can purchase additional credits as you see fit.
Level 1 Standard Version $19.99 (Starts with 500 credits) Click Here To Buy It Now!
Level 2 Lite Version $29.99 (Starts with 1000 credits) Click Here to Buy It Now!
Level 3 Pro Version $39.99 (Starts with =2000 credits) Click Here to Buy It Now!
Additional Credits Breakdown (purchased through Paypal)
1,000 Credits- $20
2,000 Credits- $40
3,000 Credits- $50
4,000 Credits- $70
6,000 Credits- $100
12,000 Credits- $200
20,000 Credits-$300
40,000 Credits-$500
Additional Credit Screenshot
Check Out My Review Video
Soooo, Does VideoRankr Work?
Yes it does. VideoRankr provides you with all the services that aid in helping you quickly rank youtube videos in google and youtube. If you are thinking about buying this product I would not let the fact that it is a credit run system discourage you. Reason being, whether you are using services like Fiverr or SEO clerks to send links to your videos, you are still going to incur some expense. The beauty of VideoRankr is you do not need to check gig ratings and look for top rated sellers, all of the services are in one place.
I was able to get a review copy of VideoRank back in May right before the product initially launched. I used it to rank a review video for a the keywords "CPA Giveaway Frenzy Review" and "CPA Giveaway Frenzy." (still ranking for both terms, last time I checked-Uploaded by VideoRankr).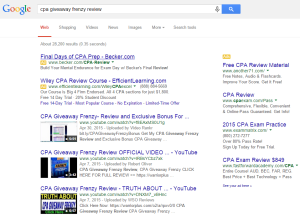 So yes, VideoRankr does work, but you must keep the following in mind:
1. If you do not properly perform on page Search Engine Optimization to your video, VideoRankr will not help rank to your full potential.
2. VideoRankr is not a miracle solution. You will not use it and immediately rank for medium to hard keywords. I am not saying it is not possible to rank for competitive keywords period, but I am telling you it will require you to first properly optimize your video and continue to purchase credits until your video ranks where you want it to. If you are new to video marketing, let me be the first to tell you, sometimes it takes videos weeks to months to rank.
Ideally you would want to use VideoRankr to help you quickly rank for lower competition keywords, like "Product Name Review" or local marketing terms like "House Painter Chicago". If you use VideoRankr properly, this tool will work great for you, but if you are looking to rank for highly competitive keywords like Make Money Online and Lose Weight Fast right away, you are wasting your time.
Video Rankr Pros
Web Based System
Easy To Use
Performs Services/Link Building on Auto Pilot
Creates Full Reports
Helps Quickly Rank Videos In Google and Youtube (Depending On Your On Page Efforts)
Video Rankr Cons
Credit Based System
Can get expensive if the user targets the wrong keywords
How Can My Bonuses Help You With VideoRankr?
The bonuses I offer will help you first properly optimize your video so it can rank very well once you apply the services from VideoRankr. Without doing this first you are simply wasting your time and money. You will also get access to my private Internet marketing group on Facebook where you can ask me anything you want in regards to internet marketing and making money online. The method I use to Rank Videos works so well that sometimes I rank in just a few minutes in Google and Youtube!
To Claim Your Bonses-Clear The Cookies In Your Internet Browser, Purchase Below and Simply Comment or Send me a message with proof of purchase through the contact form! (Bonuses will be delivered within 24hrs after payment has been verified.
Level 1 Standard Version $19.99 (Starts with 500 credits) Click Here To Buy It Now!
Level 2 Lite Version $29.99 (Starts with 1000 credits) Click Here to Buy It Now!
Level 3 Pro Version $39.99 (Starts with =2000 credits) Click Here to Buy It Now!
VideoRankr Bonuses
1. My Exact On and Off Page Video Optimization Strategy That Has Helped Me Rank Dozens Of Videos On The First Page Of Google and Youtube
2. An Invitation to my Private Internet Marketing Master Mind Facebook Group- Connect with other Internet Marketers and Ask Anything You Want
Check Out My Live Demonstration Video Below
Comments
comments